Please check the reservation page for the checkout lengths for all cameras and camera accessories.
Canon 70D Partial Kit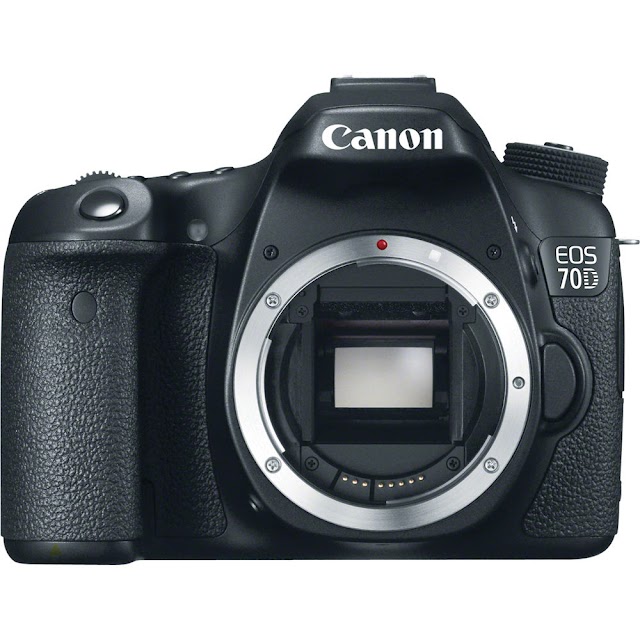 The 70D is among the most professional DSLR we offer. It focuses faster than our Rebels and comes with built-in WiFi. There is also a small screen on top for displaying camera settings. However, the 70D is a little heavier than the Rebels. We provide 2 batteries and an 18-135mm lens with the 70D.
[manual]
Canon 80D Partial Kit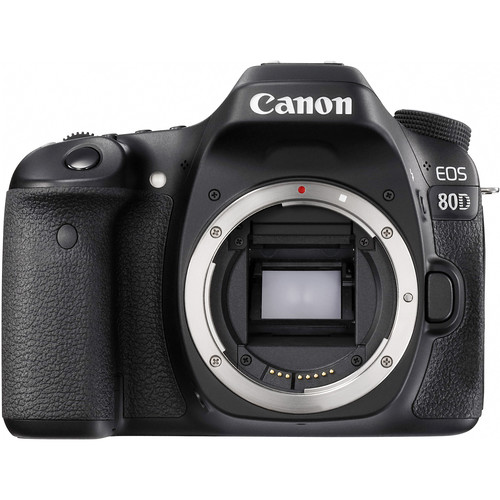 As a successor to the Canon 70D, the Canon 80D offers an updated 24.2 Megapixel APS-C CMOS sensor and dual pixel autofocus for live view shooting. Like its predecessor, the 80D offers wireless connectivity and can film Full HD (1080p) movies at 60 fps that can be saved as MP4s for ease of use.
[manual]
Canon PowerShot SX60 HS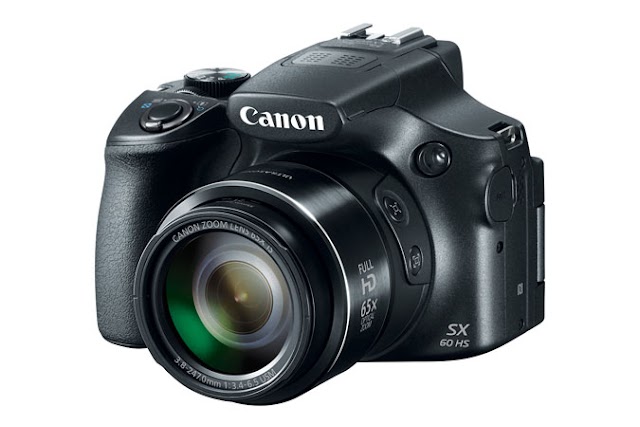 These cameras are better than our point-and-shoots but worse than our DSLRs. However, these cameras are lighter than the DSLRs and take regular AA batteries so you can easily swap in new ones for a long day. These also come with a very good built-in lens able to zoom quite far without losing picture quality.
Canon Rebel T6i Partial Kit
The Rebel T6i camera is what we would recommend to most people. They are lightweight, have a rotating screen, and are compatible with all our lenses.
Canon SL2 Partial Kit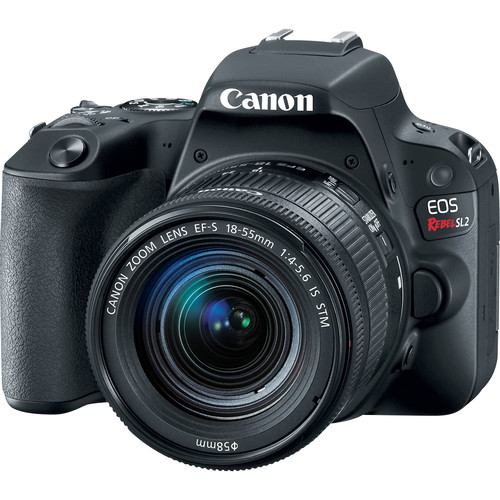 With a compact and lightweight body, the Canon Rebel SL2 provides you with a fully-featured system that won't weigh you down. Packed into the tiny body are a 24.2MP APS-C CMOS sensor and a DIGIC 7 Image Processor, both of which work together to create sharp, vivid images at native sensitivities up to ISO 25600 and extended sensitivities up to ISO 51200. Video shooting has received a boost with Full HD 1080p recording possible at up to 60 fps.
[manual]
Canon 430EX II Speedlite Flash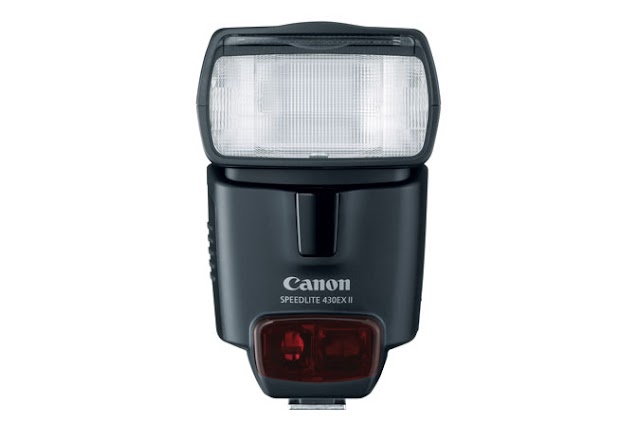 This shoe mount flash can be connected through the shoe mount (the top part) of the camera and used as a "slave unit". This gives you the option to have a flash coming from different locations other than from behind the camera. It has an illuminated LCD panel for easy flash settings in any lighting condition. You can also check out a softbox to make the flash less harsh.
Canon Macro Ring Lite MR-14EX Flash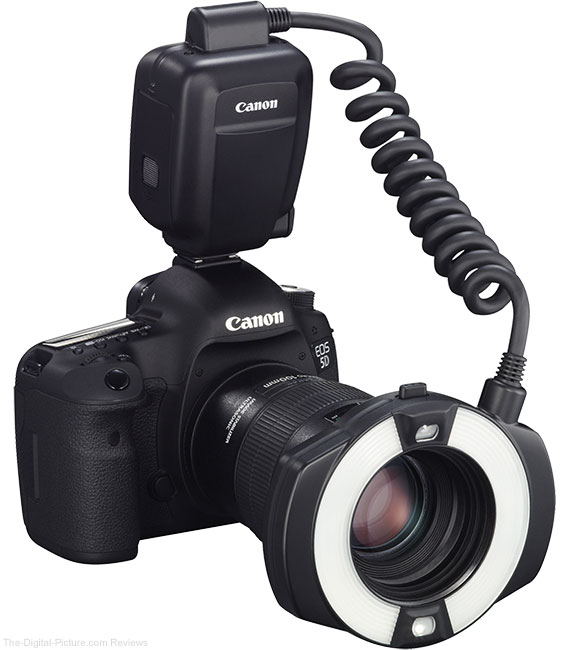 The macro ring flash is great for portraits. The flash will create a halo effect around your subject, making them the focus of the photo. These are compatible with 58mm lenses. This flash cannot be used concurrently with haze filters.
Canon Macro EF 100 Lens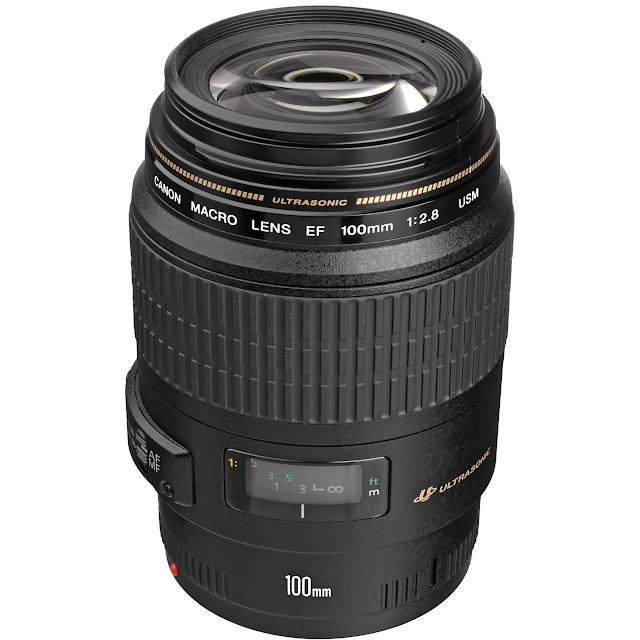 The 100mm macro lenses are fixed lenses (they cannot zoom in or out), meaning these are not very versatile, however, they have very fast autofocus and are good in low-light situations. They are primarily used for close-up shots or for subjects at a moderate distance. If you want to shoot at an extreme distance, check out our 70-200mm lens. These are available as separate checkouts and also come with the full kits for T2i-T5i.
Canon Telephoto EF 70-200mm Lens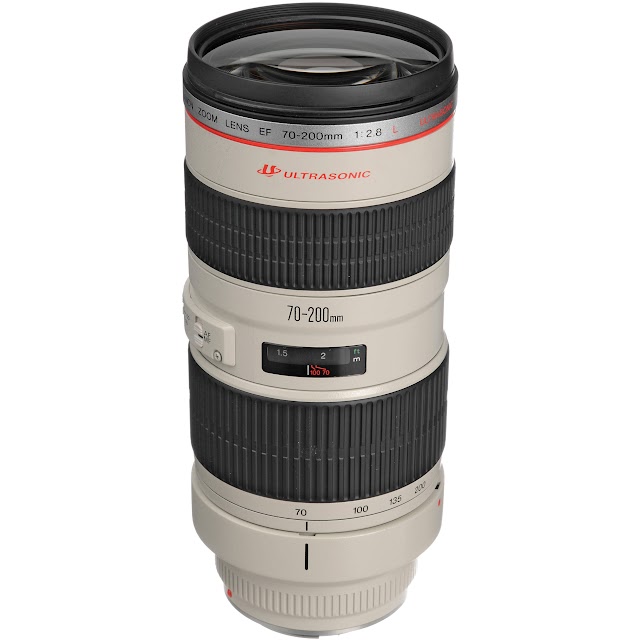 Our 70-200mm lenses are the longest lens in our inventory. They can shoot at an extreme distance and are perfect for situations where you cannot get close to the subject. However, these lenses are heavy and shake easily so you may consider checking out a tripod as well. These are available as separate checkouts and also come with the full kits for T2i-T5i.
Canon Wide Angle EFS 10-22mm Lens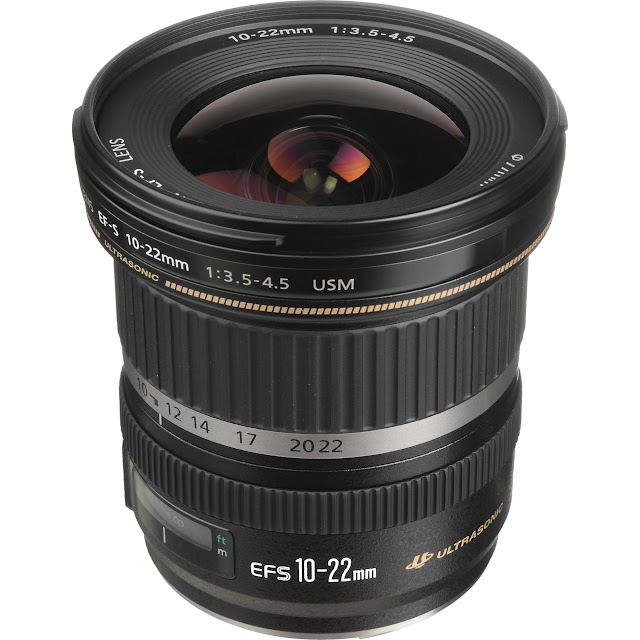 The wide-angle lenses are perfect for capturing a small space or a vast landscape to make them larger. These lenses create a lot of distortion so you may consider shooting in RAW and using computer software to correct the distortion.
Vello ShutterBoss RC-C1 Remote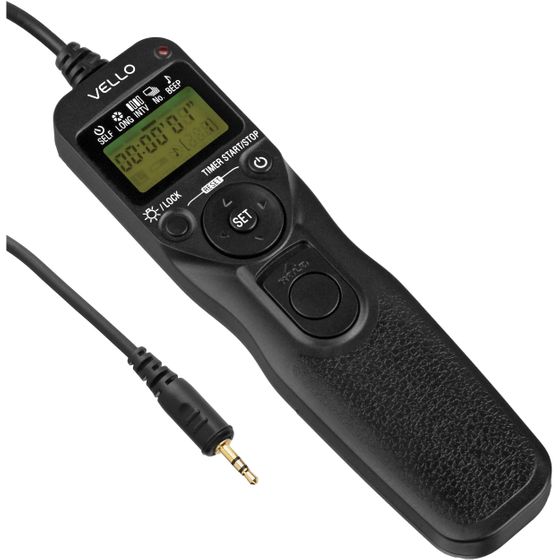 The Vello ShutterBoss allows you to capture a photo from your camera from a distance. This also eliminates any possible shaking because you do not have to touch the camera.
GoPro Pole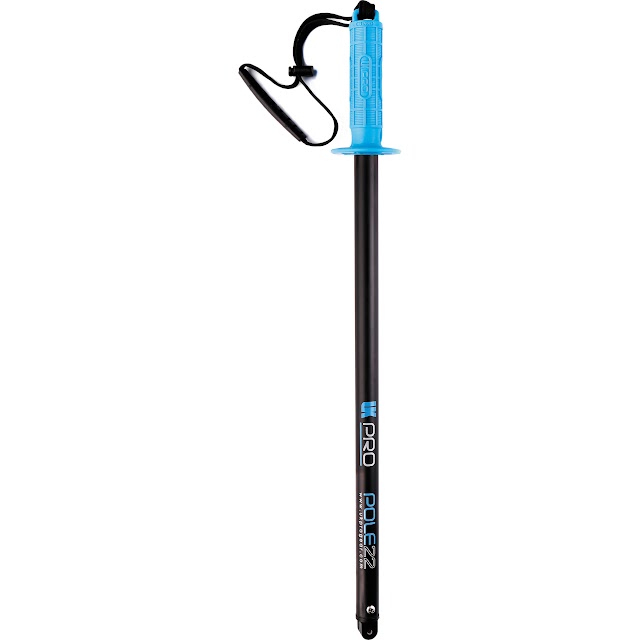 The GoPro Poles are 22-inches long to which you can attach GoPro cameras. These allow you to take videos of yourself more easily.
Joby GorillaPod Tripod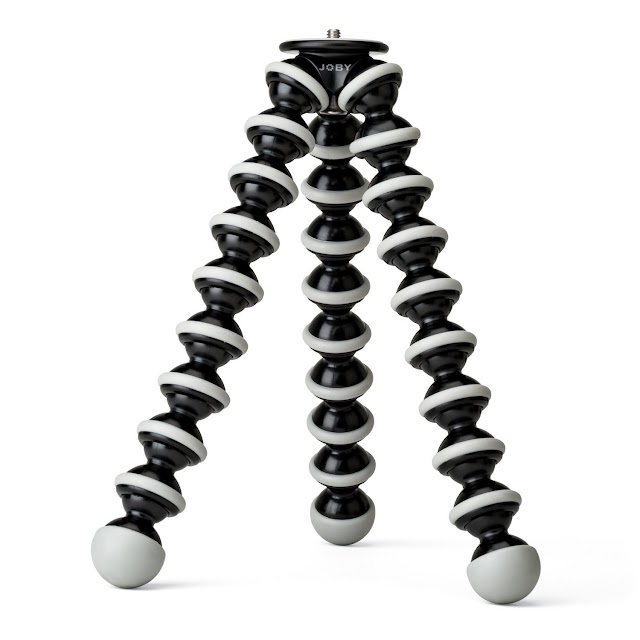 The Joby GorillaPod tripod is small and generally used with GoPros. The tripod legs can be bent to wrap around poles and cages.
Manfrotto Monopod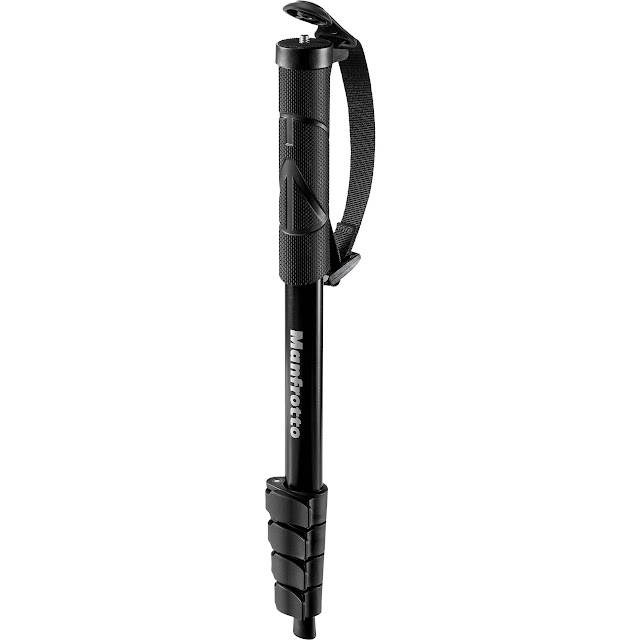 Monopods are great for providing stability for quick shots. Unlike tripods, monopods will not stand on their own; you need to be constantly holding it. The benefits are that you can walk somewhere, put your monopod down, and take a stabilized shot instantly, whereas for a tripod, you will need to set it up every time you move. For more reasons why you may want to use a monopod, watch this video on YouTube.
Manfrotto or Sunpak Tripods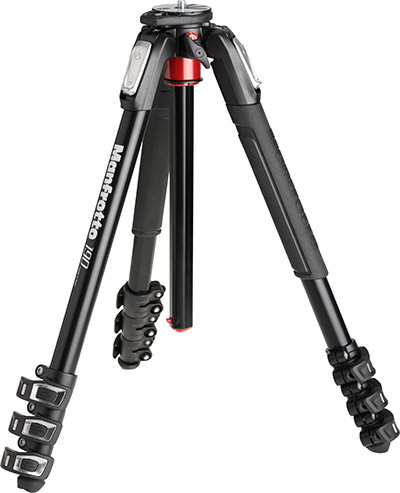 These tripods vary only in size. Manfrotto-small, medium, large or Sunpak-small. For most people, we recommend small or medium tripods. These allow you to see at lower as well as eyesight levels. If you are looking to shoot from above, get the large tripods.
Zhiyun-Tech WeebillS Gimbal Stabilizer Tripod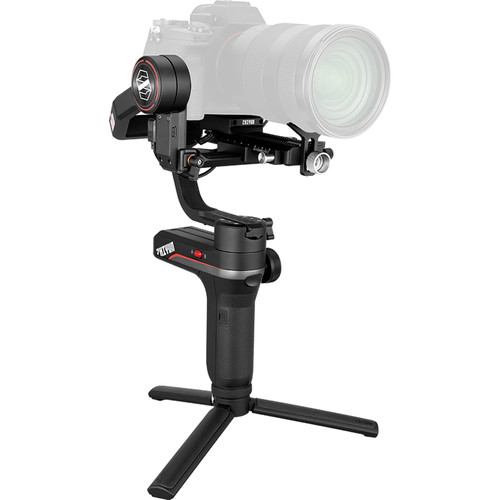 The Zhiyun-Tech Weebill-S Gimbal Stabilizer easily handles mainstream mirrorless and DSLR camera and lens combos by offering six modes of operation including Full-Range POV Mode (which allows 360° synchronous movement on all three axes) and Vortex Mode (which lets you achieve 360° barrel shots).